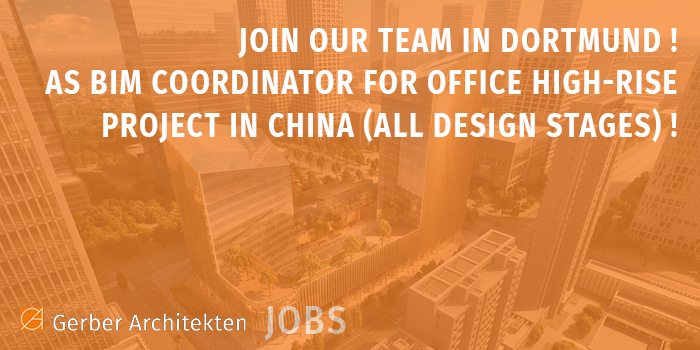 We are currently looking for an experienced architect at our Dortmund office to join our design team as BIM coordinator for a large office high-rise project in China.
We are growing continuously and are always looking for committed employees with whom we can put our high architectural standards into practice. No matter whether you would like to contribute your own innovative ideas to our competition team from the very beginning, secure the requirements of the designs through farsighted planning, or contribute to a qualitative, as well as at the same time cost and on schedule implementation of our projects – we look forward to your support.
We work not only in all phases of the HOAI, but also interdisciplinary in our project teams of architects, civil engineers, interior designers, landscape architects and urban planners. At the same time, we cover a wide range of sectors, such as office and residential construction, commercial, health and educational buildings, laboratories and research facilities, as well as buildings for art and culture at all three of our German locations – in Dortmund, Hamburg and Berlin, as well as with options at the Riyadh and Shanghai locations.
In short – we offer the entire spectrum of the professional field of Architecture and Urbanism.
What you can expect:
a permanent position with a competitive salary depending on qualification
a modern working environment and state-of-the-art working methods (BIM)
a team of 180 committed and open-minded employees
international and architectural high-profile projects
individual training and development of your potential
regular in-house training and lectures
Team events and excursions
company health management and sports activities
What we expect from you:
you are a fully qualified architect
you have min. 5 years' experience
solid understanding of principal design processes and building systems
effective, responsible and independent way of working
outstanding knowledge of BIM within ArchiCAD
openness for Chinese cultural context
solid English language skills
What your tasks will be:
coordination of BIM/ relevant CAD standards to ensure a smooth design process within our design team
quality assurance of BIM standards
effective contribution within our intercultural "team Asia"
effective communication with other members of the team
contribution to developing/controlling our CAD standards in our Shanghai office
---
Your application!
Are you interested? Then please send your complete application documents including the earliest possible starting date in digital format (1 PDF-Dokument) to jobs@gerberarchitekten.de or in written form:

Gerber Architekten GmbH
Prof. Eckhard Gerber
Keyword: Application
Tönnishof 9-13
D – 44149 Dortmund
---
Questions?
Please do not hesitate to contact us if you have any questions:
Monika Schulze, Telephone: +49 231 9065 100.